Meet Dr. Ryan Chin
As a Patient
In 2011, Dr. Chin was involved in a rock-climbing accident while in the Adirondacks. A fractured left ankle left him immobile for a long time, and it was during his recovery period that he became aware of what Chiropractic was. It was at that time that Dr. Chin's healing began to accelerate and he became acutely aware of the power of a chiropractic adjustment. The experience ultimately inspired him to pass this gift on to other people.
As a Student
In 2012 Dr. Chin was enrolled at Life Chiropractic College West in California. His experience proved to be even more impactful than just being a patient. Learning about the science, philosophy, and art behind chiropractic empowered Dr. Chin's fundamental belief; the human body is a powerful machine that is capable of healing itself.
As a Doctor
As a clinician, Dr. Chin is interested in connecting his patients to their most desired goal.  Are you interested in getting out of pain? Easy. Are you interested in transforming your body through movement and nutritional support? No problem. Are you interested in becoming the best and most healthy version of yourself? Excellent! Dr. Chin is excited to be part of your journey into wellness, however that looks for you.
Professional Certifications and Training
Dr. Chin has extensive post-graduate studies in neurology, sports injury rehabilitation, and nutrition. He is certified with Activator and Sacro-Occipital Technique, and practices using full-spine and extremity adjusting.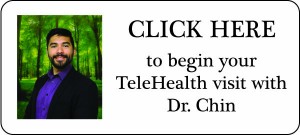 TeleHealth Visits must be scheduled with the Front Desk by calling (508) 425-3304.
The link above will be used to enter your appointment.
His Shrewsbury work hours are:
Tuesday: 9am-7pm
Wednesday: 9am-7pm
Thursday: 10am-7:30pm
Friday: 8am-5pm
Saturday: 9am-3pm
Contact our office today to get started. (508) 425-3304