Massage Therapy in Shrewsbury
Shayna Fitzgerald

, Massage Therapist
Shayna is a Licensed and Board Certified Massage Therapist. She graduated from the Bancroft School of Massage Therapy in 1996.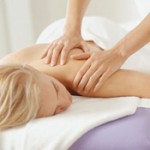 Whether you are looking for stress reduction, relief from chronic pain or need therapy to help with injury recovery she has developed multiple skills over the years to help.  She continues to further her education and knowledge. Shayna is very client focused, treating each person as an individual, listening to their needs, and helping them achieve a better and healthier life.
She has previously been a finalist in the Telegram and Gazette Best of Central Mass poll and the Worcester Magazine Best of Worcester Poll.
Lucais Cannalonga,

Massage Therapist
Lucais is a Licensed Massage Therapist. He knew early that he wanted to have a career in massage therapy and entered the SpaTech Institute in Westborough immediately upon graduating high school. He found his interest in massage after receiving tremendous results with a past injury and the seeing the benefits this therapy had on recuperating and stabilizing the muscles. He can also integrate polarity therapy into his work. This therapy is an energetic modality that helps balance emotions and hormones. The benefits provided by Lucais include feeling refreshed, rejuvenated and energized.
David Hric

, Massage Therapist
David graduated with a B.S. degree in exercise science from Towson University then from Rizzieri's School of Massage in New Jersey. David also is a Certified Strength and Conditioning Specialist after working for 2 years under the Head Strength and Conditioning coach of the Boston Celtics. David uses his license in massage therapy as well as his exercise knowledge to assess and treat the whole patient.
He takes a medical approach which is centered around an outcome-based treatment using a broader set of therapies for muscle health and recovery. David specializes in techniques such as: Myofascial release, active release therapy (ART), PNF Stretching, Joint Mobilization, Acupressure, and trigger point therapy.

Helping You Find Wellness
Massage therapy has so many health benefits! It can:
Boost your immune system
Improve range of motion
Alleviate headaches and migraines
Reduce spasms and cramping
Reduce stress
Reduce blood pressure
Increase circulation
Increase joint flexibility
Help muscle recovery
And much more!
Please let us know when scheduling if you are pregnant or have any conditions that may affect the work of our therapists.
Shrewsbury Massage Therapy Pricing Information
Regular price is $70.00 for one hour or $100.00 for one and a half hours. Swedish massage with deep tissue work is included. Package plans are available that would save you 15% on each massage!
Massage interns from a local school visit our office every three to four months to complete their hours needed for certification and offer shorter massages at discounted rates.

Request an Appointment
Do you want to feel great and help your body heal? Call today to book a massage appointment!