Massage Therapy in Shrewsbury
Shayna Levy

, Massage Therapist
Shayna is a Licensed and Board Certified Massage Therapist. She graduated from the Bancroft School of Massage Therapy in 1996.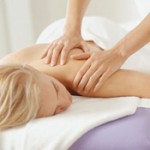 Whether you are looking for stress reduction, relief from chronic pain or need therapy to help with injury recovery she has developed multiple skills over the years to help.  She continues to further her education and knowledge. Shayna is very client focused, treating each person as an individual, listening to their needs, and helping them achieve a better and healthier life.
She has previously been a finalist in the Telegram and Gazette Best of Central Mass poll and the Worcester Magazine Best of Worcester Poll.
Lucais Cannalonga,

Massage Therapist
Lucais is a Licensed Massage Therapist. He knew early that he wanted to have a career in massage therapy and entered the SpaTech Institute in Westborough immediately upon graduating high school. He found his interest in massage after receiving tremendous results with a past injury and the seeing the benefits this therapy had on recuperating and stabilizing the muscles. He can also integrate polarity therapy into his work. This therapy is an energetic modality that helps balance emotions and hormones. The benefits provided by Lucais include feeling refreshed, rejuvenated and energized.
Danielle Ferguson

, Massage Therapist
Danielle Ferguson, LMT and Reiki practitioner, uses a holistic and integrative approach when helping people reach their health and healing goals. Each session is customized to your body's unique need using a combination of energy medicine, reiki, neuromuscular therapy, myofascial release, deep tissue and swedish techniques.
If you desire a full body relaxation massage, targeted work for chronic pain, long term injuries and trauma, migraines, arthritis, anxiety/mental wellness or prenatal she is able to meet you where you are providing a true "body therapy" experience. When Danielle isn't massaging, she enjoys having fun with her 2 daughters, Hannah and Ada, her dog, Nelson, and family and friends. She also enjoys hiking, yoga, kayaking, photography and time at the ocean.

Helping You Find Wellness
Massage therapy has so many health benefits! It can:
Boost your immune system
Improve range of motion
Alleviate headaches and migraines
Reduce spasms and cramping
Reduce stress
Reduce blood pressure
Increase circulation
Increase joint flexibility
Help muscle recovery
And much more!
Please let us know when scheduling if you are pregnant or have any conditions that may affect the work of our therapists.

Request an Appointment
Do you want to feel great and help your body heal? Call today to book a massage appointment!