inBalance Chiropractic and Wellness News

Go Green With Your Cleaning Routine! Workshop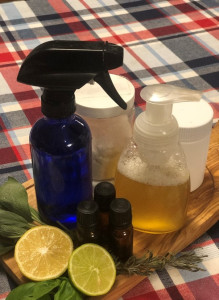 Make your own eco-friendly cleaning pantry in just one afternoon!
Are you wondering what else you can do to improve your family's health this fall? Have you thought about making your own cleaning products or the benefits of essential oils? Not sure where to begin?
Start here with me! In this special hand's-on workshop, we will create some of my favorite all-natural eco-friendly Cleaning Products! You will also learn how to use essential oils to boost your health! We will be making 5 non-toxic products that you can take home and get started with right away! Making the switch to all-natural products will help support your health and wellness, and reduce your exposure to harmful ingredients in store-bought products. Our all-natural products are kinder to your family and the environment. You will leave feeling empowered with the knowledge and tools you need to Go Green with Your Cleaning Routine!
All materials are included in the price of the workshop. Space is limited so book your spot ASAP! Registration fee is $65.00/person.
Make It & Take It
1. All Purpose Kitchen & Bathroom Citrus Cleaner
2. Family Friendly Foam Soap Cleanser
3. Natural Tub & Tile Soft Scrub
4. All-Natural Laundry Powder
5. Surprise Self-Care Product!
Workshop will be held October 17, 2023 from 12:30pm-2:00pm at our clinic! Please call (508) 425-3304 to register.

We now offer SIgA test kits – Learn More Below
From: Drs. George Debs, Jaclyn Debs, Ryan Chin, and Timothy Arena at inBalance Chiropractic and Wellness
Re: The Importance of Correct and Accurate Laboratory Testing during the COVID-19 Era
It has increasingly come to our attention that now, more than ever there is a strong need for all of us to be able to get safe, accurate laboratory testing that can efficiently give us a status on the ability of our individual immune systems to fight off viruses and bacteria (and more specifically the Corona virus).
After reviewing very current data on COVID-19 and examining the history of the human body's response to past viral pandemics, we have put together a course of action that any of our patients can follow in order to identify their current status of immunity and then take action on how to improve it.
It is first important to have an understanding of the three main laboratory tests that are now available to you: the nose swab test, the serology antibody test, and the saliva Secretory Immunoglobin A test (called SIgA, for short). The nose swab test will involve taking a sample from the nasal/throat junction and it will test for a currently active case of COVID-19. The serology antibody test is done by taking a small sample of blood from a pin prick and it will tell you if you had previously been infected with COVID-19. The SIgA test is a saliva test done at home where you put your saliva sample in a kit, and then mail it out directly to the lab. This test measures the amount of secretory IgA (antibody) in your mucous (nasal), tears, and saliva. This antibody is the first line of defense – preventing viruses and bacteria from entering your cells. It is often described as "nature's vaccine".
While the nose swab test and the serology antibody test can be important tests in certain circumstances, only the SIgA test will give reliable information to both those that have and have not been infected by COVID-19.
Recent studies show that if one hundred people are all exposed to the Coronavirus, 80-90 of those people will not get infected (in other words, the virus will not attach to and invade their cells). The reason there is an actual prevention of infection is because the SIgA antibody found in the membranes of the mouth, throat, nose, and eyes when at high enough levels, prevents the virus from invading our cells. The inactive viral particles, with no host to attach to are secreted out through our digestive tract.
We agree with the vast majority of the top functional medicine immunologists that the number one test of choice for determining where you may stand in your ability to fight off this virus is the SIgA test. It is very helpful to know if you fit in the favorable 80-90 percentile group with high levels of SIgA. If you do not, then the next step may involve running the serology antibody test to see if you have already been infected by the virus. We will then guide you through the steps to building your natural immunity by increasing your SIgA levels.
Every person's situation is a unique one with both health status and environmental variables that may result in a modification of the plan for testing as outlined here. We assure you that we are here to answer any of your questions and to guide you through your decision-making during these unprecedented times.
inBalance has the capacity to provide the SIgA test kit to our community. If you would like a kit, please call our office for more information. After your results are returned to the doctor, you can schedule a visit to come into our office or we can provide a visit through our new TeleHealth platform to explain your results.
---
Chiropractic and Telemedicine (4/17/2020)
You may be thinking to yourself how can a chiropractor utilize telemedicine? Your chiropractor at inBalance Chiropractic and Wellness in Shrewsbury works directly with your nervous and muscular system, but they also can assist you with management of other elements of your health.
Here are two examples.
Are you working from home? Do you have a proper desk? If not, where are you working at… your sofa, kitchen table, bed, or recliner? An audio-visual call with one of our doctors can give them insight into the way your body is positioned as you work from home and they can offer tips and tricks on how to have the best posture. Our
inBalance doctors
can suggest ways to utilize everyday objects around your home, such as throw pillows, to keep your spine healthy and keep pain to a minimum. We can also recommend and demonstrate through a telemedicine call different types of exercises to help you stretch and strengthen your core and back while you are home.
Besides ergonomics, another of the many services that we can provide include nutritional support. We are moving close to entering our third month of social distancing. Since many of us are stuck at home, our diets and lifestyles are rapidly changing. We went from meal prep to baking breads and cakes. Have you noticed your gut health has been declining? Do you know the symptoms? Your chiropractor here at inBalance can help you set up a nutritional regimen to supplement your diet to ensure that your gut remains healthy during this time.
Get Started Today
There are many ways that you can work with your chiropractor to remain in good health without even leaving your home. Give us a call at (508) 425-3304 to set-up your first telemedicine appointment today.

inBalance Chiropractic and Wellness News | (508) 425-3304